Well it was great to back at Eagan parkrun… even if it did feel like January out there.  Say "hi" to Hazel above... she helped run direct this last week.  Eagan parkrun #77 was a chilly one and for this Run Director, the first one I have been in charge of since the middle of July!!  Just a lot of conflicts piled up, but I'm never that far from parkrun, whether on the social media side, helping Run Directors or now working to get new parkruns going in some parts of the country.
I thought I would take some time to update our Eagan parkrun community on some happenings:
We are doing really well.  Year 2 has seen some good year on year growth, although, August, September and October have generally been down vs. prior year.  For the first 77 weeks, we have averaged 44 runners and the average time is just under 32 minutes at 31:56.  That's great and shows that we have and welcome all speeds.  Great to see some real speed demons, but also super to have walkers and other enjoying the time out in Thomas Lake Park.
Our course continues to evolve a bit.  Most recently, we had it certified as an official 5k distance.  This is important for some of you, less so for others.  Our goal is to keep it the same now and with these measurements and markings we can hopefully do this.  We also know our 1-mile, 2-mile and 3-mile marks now, so hopefully you will see some of those marketings out soon.

Of course, come winter, we have to keep a close eye on the course and may need to adjust due to conditions.  For instance, if we can't run the hill due to ice, we usually try to make a 3-lap course of the eastern section of the park.  The other item we have done or used is that on very cold days, but not cold enough to cancel, we'll reverse the course so that our volunteers can sit in their cars while waiting for the finishers or in between finishers.

We have continued to add Run Directors to our group.  We currently have 7 different directors, 2 that have pulled back a bit and one in training.  It's great to have around 10 so we can share the load… if you are interested in this, please let us know.  It's really pretty easy and there are others around to help you out.
Did you know Eagan parkrun has another Event Co-Director?  Back in summer, Tom Anderson joined me as Co-Director.  This is right for Eagan parkrun and also something that parkrun USA and Global are suggesting as a best practice… that is to have Event Co-Directors.  Thanks Tom!
Did you know that this Saturday, the 27th US parkrun will start in Tuscon, AZ.  You can see where they all are on this link:  http://www.parkrun.us/events/
Having a Co-Director has allowed me to spend a bit more time as a parkrun USA Ambassador.  This is a new role and a new group of about 12 people in the US that are supporting existing events, bring potential events forward and searching for the future Event Directors and locations as well.  If you've spoken to me in the past about this, you will know, I believe there could / should be 10 parkruns around the Twin Cities in the next 5 years.  We don't quite have our second yet, but I have been speaking to a few communities in our area.  I'm hopeful we'll see a second metro area parkrun in 2019.  Stay tuned!
Great to see all the milestones coming through Eagan.  We have Junior 10 runners, 25 Volunteer milestones and have now been hitting the 50 parkrun clubs as well.  By the end of 2019, I expect we'll have a couple 100 milestones in our midst!  Great work.  Just so you are aware, when you hit one of those milestones, you get a cool little icon next to your time on the results page.  You also get a FREE (shipping not included) tech shirt in a color tied to your milestone.  They are pretty nice shirts and you should war them with pride.  The current clubs for volunteering are 25 and for running include Junior 10, 50, 100, 250 and 500!!
Communications – I'm sure you've seen some changes to some of our comms efforts.  We missed a few Run Reports (still may see those, but there are about 4 missing in the last couple of months).  It was bound to happen.  We'll continue to try to recap the event each week.  We have been posting less on Social Media… kind of goes with the Run Report.  On the flip side, we have been trying to get out a weekly email to subscriber email list.  There are a lot of Eagan parkruners on this list and a lot of people that have registered, but haven't made it out yet… I want all of them to hear what we are doing, what we are up to and that they are always welcome to join Eagan parkrun for a FREE, TIMED 5K!  Let us know what you like and don't like about our  communications efforts.
I'll leave the brief update at that.  I'm always happy to fill you in on Eagan parkrun.  Remember, it is YOUR parkrun, it is a community event put on by the community, for the community.  We are also always looking to improve, so if you have an idea, let me or someone know!
Oh ya, we have a parkrun last week.  17 parkrunners did a great job… it was darn cold.  Sisters Beth Claybaugh and  Maria Hauer did a super job motoring around the course and avoiding some icy spots from the storms earlier that week.   It was super to see ultra-marathoner Todd Millenacker and he brought along Mike Mondelli for his first parkrun.  It was thumbs-up afterwards, hoping we see you again Mike!
I mentioned some of the milestones above.  This week, Ed Anderson joined the growing group of 50 parkruns.  Ed has been a staple at Eagan parkrun since our start.  He has done a SUPER job putting up tons of PBs and getting much stronger as a runner.  Congrats ED!
Picture below is of Ed and last's week's 50 club member, Amit Parnerkar.  Amit got his 51st in this week and like Ed, has been a mainstay at Eagan parkrun.  Thanks to you both… you help make Eagan parkrun what it is!
A final BIG milestone this week was Francine LePage and her 25th Volunteer Milestone - yep a purple shirt for you Francine and our unending thanks for your help in making Eagan parkrun possible!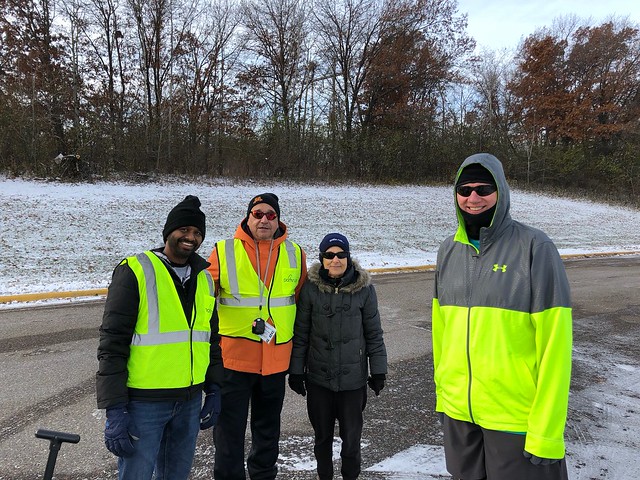 Don't forget to join us this Saturday for Eagan parkrun #78 and also for our first food drive, in support of the Open Door Food Shelf in Eagan.  Hoping for a good turnout and a good haul for those in need.
As has been mentioned, I'll be Run Director for a Thanksgiving parkrun, same place and time, just on Thanksgiving morning.  I have failed to clarify… we are still having a parkrun on the Saturday following Thanksgiving, November 24th.  The Thanksgiving parkrun is just a bonus, it does not take the place of the regularly scheduled parkrun on Saturday morning.  There are still some volunteer spots open for Thanksgiving morning if you want to help out as well.  It's also not too early to start thinking about New Years Day… we're hoping for another special parkrun that day… more details to follow.
I'm sure I've gone on long enough.  As mentioned, great to be back at parkrun.  I'll be back on Thanksgiving and hope to see a ton of you.  This Saturday, RD Skip will be putting on the show.  Come out for a parkrun and bring a friend!
Nate